Quality assurance is our number one priority at Tru-Line Manufacturing Company. We have multiple levels of product quality assurance processes including self-inspections, peer inspections, independent labs, and product audits. Statistical techniques are used throughout the facility and employees are empowered to reject material and shut down manufacturing processes when appropriate. System audits are conducted to ensure compliance to the ISO9001:2015 standard and our quality system requirements and procedures. Internal audits also provide the opportunity to identify weaknesses before our manufacturing processes and product quality are impacted. In addition to our in-house capabilities, we also use independent testing labs for salt spray testing, pressure testing, fatigue testing, cyclical endurance testing, and failure analysis.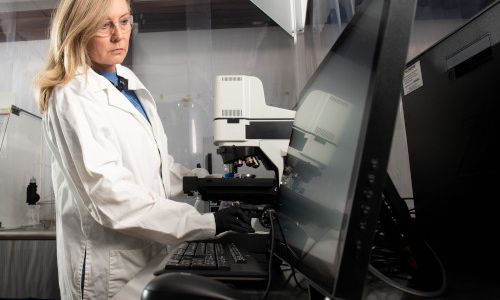 Located in our warehouse building, away the fabrication building, is our Industrial ISO Class 8 clean room including two CAP118 air filter units, an Olympus CIX100 Technical Cleanliness Inspection System, and a RADWAG Analytical Balance. In addition to cleanliness testing documentation required for customer PPAP compliance, regular cleanliness testing is included in our product quality audits. We take product cleanliness very seriously and we work diligently to ensure the cleanliness of every hydraulic tube assembly that ships from our facility.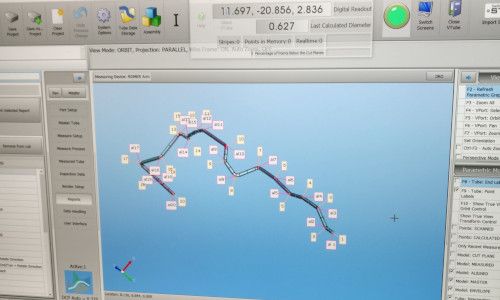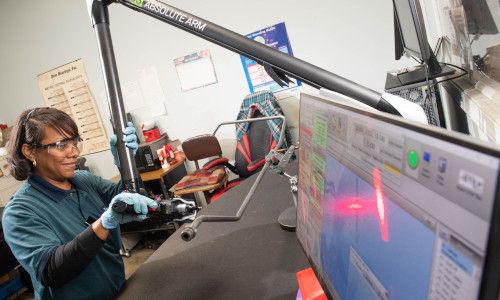 Tube form inspection is performed on Hexagon Absolute Arms using VTube-LASER inspection software. This combination of hardware and software is specifically designed for the inspection of bent tube assemblies. To ensure accuracy the arms are calibrated annually.
Quality is more than just a written policy and certificate at Tru-Line Manufacturing; it means real performance for our customers. Our pro-active approach to quality helps ensure that we do the job right the first time, saving precious time and resources. Everyone at Tru-Line Manufacturing is part of our Quality Team, working to provide our customers with 100% defect free product every time, day in and day out, shipment after shipment. The proof is in our performance. Please feel free to contact us at This email address is being protected from spambots. You need JavaScript enabled to view it., if you have any questions concerning our Quality Assurance systems.
Tru-Line Quality Policy
It is our goal and commitment to continuously improve all processes to satisfy our customers by providing quality metal tubing products and custom coating services with zero defects and 100% on-time delivery.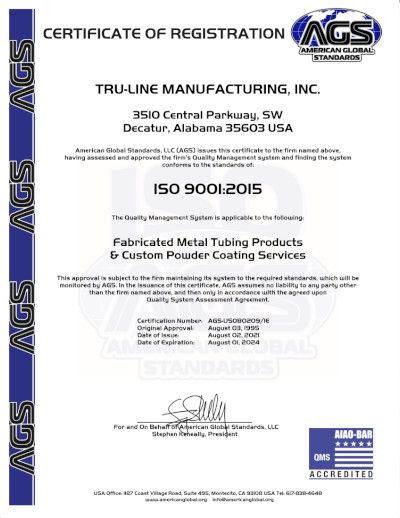 ISO Quality System Registration
Our quality system was originally recommended for ISO9002:1994 registration in August 1995 and we continue to maintain our registration to the ISO9001:2015 standard through American Global Standards. Our quality management system is applicable to fabricated metal tubing products and custom powder coating services. View a copy of our certificate of registration.