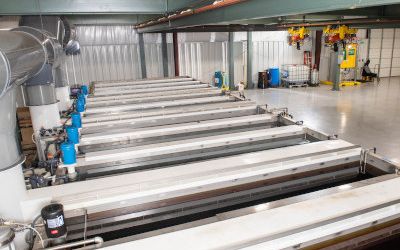 All brazed or welded tube assemblies produced in our factory are cleaned in our phosphate dip system. This system consists of a series of tanks that clean braze/weld flux, rust, and carbon from both the outside and inside of the tube assembly. It also applies an iron phosphate coating that stops flash rust from starting during further processing, shipping, and handling. This process ensures your tube assembly will be clean and ready for final assembly upon its delivery to your assembly line. Our iron phosphate system can process tube assemblies with a developed length up to 118".
Process Quality and Safety
Our phosphate technicians perform titration and temperature checks on all phosphate process tank solutions daily. All process tanks have active filtration systems that keep solutions free of metal chips and debris, and a collator to keep both cleaning tanks free of oil. The Tru-Line tube cleaning and coating process area is physically segregated from our fabrication areas to reduce factory environmental impacts and maximize the safe handling and storage of process solutions.